Tractors come in many different sizes and horsepower ratings that a new homesteader is left wondering "what size tractor do I need?". The tractor size is based on the job it needs to do. Usually on a small farm or homestead the jobs that need to be done are based on the number of acres of land that are being used.
Let's discuss the different types of work that typically happen on the homestead for each parcel size to determine what chores must be done and then determine the optimal size tractor for the job. We'll also talk about a few different variables and whether a new, used or antique tractor is right for the job. The chart below gives a quick summary but many factors should be taken into account:
| | | |
| --- | --- | --- |
| Acres | Tractor Type | HP |
| 1-4 | Garden Tractor or Subcompact | 15-29 |
| 5+ | Compact Tractor | 25-35 |
| 10+ | Compact Tractor | 35-50 |
| 20+ | Compact or Utility Tractor | 45+ |
Size your tractor to the size of your homestead
What Size Tractor for 2 Acres?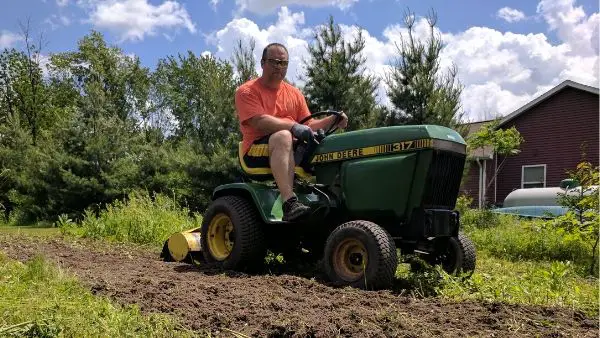 Having only an acre or two homestead limits you somewhat as to what you are able to grow or produce for yourself. It also reduces the size of tractor that is needed to accomplish those tasks.
This size homestead will usually consist of a small garden, a few fruit trees or berry bushes, some maples for tapping, small poultry flock or possibly even honey bees. For these jobs a garden tractor or subcompact tractor is the best choice. These tractors will handle implements such as tillers, snowblowers, back blade, and even a front end loader (FEL).
Here on the Country Family Homestead we have a couple small tractors for those small jobs and to get around in tight spaces. The John Deere 317 is a garden tractor and the Bolens G152 is a subcompact.
Our JD 317 has a tiller attachment and a snowblower. Either one or the other is mounted and left on depending on the season. We don't have a mower deck for this tractor which saves on engine wear by using a dedicated lawn tractors for cutting grass. This tractor has been around for a long time and has held up well to many hours of tilling and snow removal.
Garden tractors have a bit beefier frame than a lawn tractor along with a stronger drivetrain and more aggressive wheels. Newer garden tractors are rated from about 24 – 29 hp although the JD 317 is only rated a 17 hp.
The Bolens G152 subcompact is quite a workhorse for it's small size.
The 3-cylinder Mitsubishi diesel engine has plenty of torque and although this model doesn't have 4WD it does have a locking rear differential that keeps equal power to both rear wheels.
Subcompact tractors will typically have a category 1 3-point hitch and a rear PTO for driving implements such as tillers and brush hogs. Probably the most handy tool for a subcompact tractor is a front end loader or FEL which is one thing my Bolens is lacking. I use my Bolens for plowing snow and grading the driveway along with pulling out small trees and brush.
Subcompacts will generally have a small diesel engine with a horsepower rating of up to about 25 hp. The horsepower of gasoline garden tractors and diesel subcompacts isn't really an apples to apples comparison. The diesels have so much more torque and are have different gearing options that really make the diesel so much more powerful.
There are older garden tractors for sale all the time and still fetch a decent price, but for many micro-homesteads that may be exactly what is needed and well worth it.
Jumping up to a subcompact tractor will start about $10,000 for a new one and $5,000 for a good used one. That price is probably without a loader or other implements, but for a little bit more you could have a very well equipped little tractor that should last for decades.
What Size Tractor for 5 Acres?
A homestead of 5 acres or so gives enough space for a larger garden of an acre or more, a small orchard, or additional livestock such as goats or pigs. This is when having a little bigger tractor will come in handy for cultivating, pulling equipment, and cleaning livestock pens.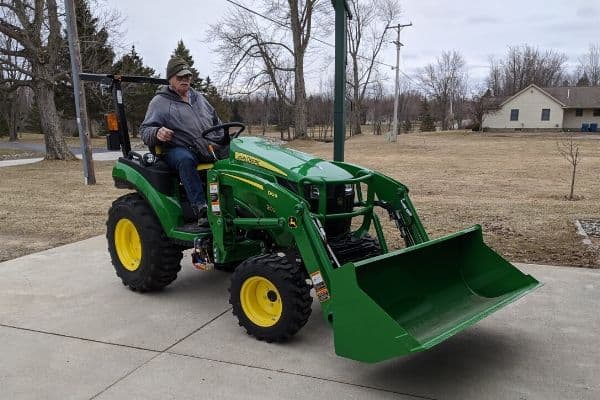 A compact tractor with somewhere between 25 and 35 horsepower will be the perfect tractor for these tasks. Our most recent tractor here on the homestead is John Deere 2025r with a FEL, tiller, snowblower, and belly mower deck.
There are so many different makes and models of quality compact tractors that shopping for one can be a huge undertaking. Probably the best approach is to visit your local dealers to test drive and compare different brands. Some things to consider are availability of parts and service, does it accept all universal implements, and the online rating of the dealership itself.
Compact tractors of this size will most likely start at $8,000 to $10,000 for an older used one. A new John Deere 2025r with zero attachments starts at $18,000 and goes up quickly once you add a FEL, tiller, snowblower, mower deck, etc. There is definitely some price differences between different brands so that is another important consideration as you shop around.
What Size Tractor for 10 Acres?
Having 10 acres could mean having a large produce garden for a roadside stand, horses, or a few cows. Or it could include a woodlot used for harvesting firewood or a larger maple sugaring operation. This is when buying a larger compact or utility tractor of at least 35 hp will make the most sense.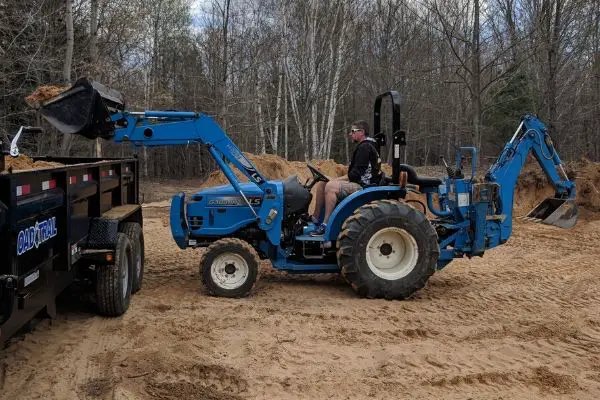 Depending on the work you plan to do with your tractor, a backhoe may make sense like on my neighbor's LS Tractor. Removing the backhoe to attach other implements though will take a little additional work.
The biggest advantage of a larger hp compact tractor is the extra power to operate larger implements and cover more ground quicker. Usually it also means more lifting capacity for the FEL because of more weight in the rear of the tractor and the extra capacity of the hydraulic system.
Tractors this size will either have a category 1 or category 2 3-point hitch so it's important to match up the size of the implements you will need to get your jobs done and match that to category of hitch available. Larger category 2 implements will generally cost at least twice the price of category 1 implements.
For a new 35 hp tractor you might have to add about $5,000 to $10,000 more than the cost of a 25 hp model. Used ones are available to save a little, but used tractors hold their value so well it may make sense to buy new depending on the dealer incentives available at the time.
What Size Tractor for 20 Acres?
The activities found on a 20 acres homestead include everything we've already discussed along with even more possibilities. Adding a hay field, grain field or larger fenced in areas for livestock are a few things that come to mind.
20 or more acres will probably require a bit bigger utility tractor with a horsepower range of 45 hp or more. This size tractor will be able to handle everything a homesteader will ever need. These will most likely come with a category 2 hitch but some are convertible to a category 1. They also have massive amounts of pulling power for plowing and ripping, and other agriculture activities.
Mid-size utility tractors will have plenty of lift capability with the FEL too for tasks such as popping out large stumps, lifting heavy logs for sawmill operations, loading large bales of hay and moving large scoops of wet soil and sand.
With so many more chores to accomplish, the operator will be in the seat for many more hours than a smaller homesteader so a tractor with an optional cab and climate control may be desirable. The cost of mid-size utility tractors vary greatly depending on make, model, horsepower, attachments, etc, but you can expect it to be significantly more than a compact tractor of the same brand.
Variables
Of course all these recommendations are generalized based on typical homestead operations and your specific needs may be similar or vastly different. If you list your main purposes of a tractor in order of importance and then determine what implement or accessory is optimal to accomplish that task. Then go back an choose the right size tractor that can handle all those different implements the best and most efficiently.
Are Antique Tractors Useful for the Small Homesteader?
I have seen a lot of small farms and homesteads in our area using older tractors for many chores such as planting, cultivating, and haying operations. We have several old Farmalls and an Allis Chalmers here on the homestead that we use for working up and cultivating the large garden, clearing topsoil to prep for construction of the new barn, ditch maintenance, and for snow removal.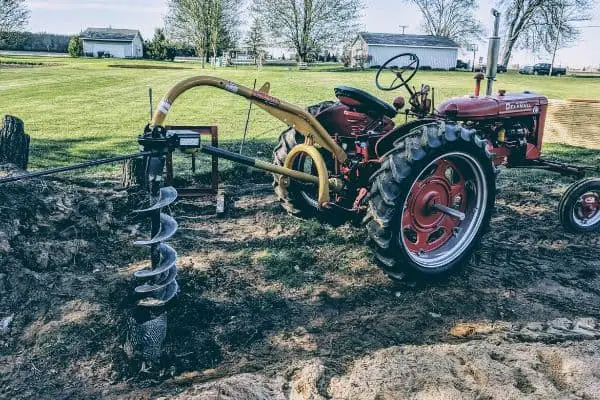 If the antique tractor has a 3-point hitch and rear PTO it may also run more modern implements like this post hole auger we used to punch holes for our new pole barn.
One thing to be aware of with antique tractors is that most modern PTO driven implements require a PTO speed of 540 RPM but the PTO speed of older tractors could vary with each tractor model.
You can pick up an antique tractor in great working condition for only a couple thousand dollars compared to tens of thousands for a new or slightly used modern tractor. At that price it probably won't have a loader on it and it will be limited to a select few chores, but if those are the chores you need done the most than it may be a good fit.
Summary
As you consider the types of work you'll be doing with your tractor, remember that as you get accustomed to using the tractor as tool you'll find many more uses for it. It's also a good idea if you're on the fence about what size to get, opt for the larger horsepower as long as a bigger tractor doesn't hinder you with the room you have to work in.
If you are debating as to whether buying a new tractor is worth the investment, I encourage you to check out this article here on this website. It gives the true cost of owning a tractor and how much money it could actually save you over it's lifespan.
Related Posts