Owners of compact and subcompact tractors will find that there are some tractor accessories and attachments that will help get those homestead chores done quicker, easier, safer. These accessories range in price from pretty inexpensive to several hundred dollars. Some are easy bolt on or clamp on attachment, but some are a little more involved and it may take a little more skill in wiring or welding to complete the project.
I have compiled a list below of the best tractor add-ons for tractor owners to get more work done.
Auxiliary Lighting
Adding auxiliary lighting will allow you to work longer into the night safely to finish a job. Extra lighting really helps with snow removal. Usually by the time you get home from work in the winter and get ready for snow removal it is already getting dark.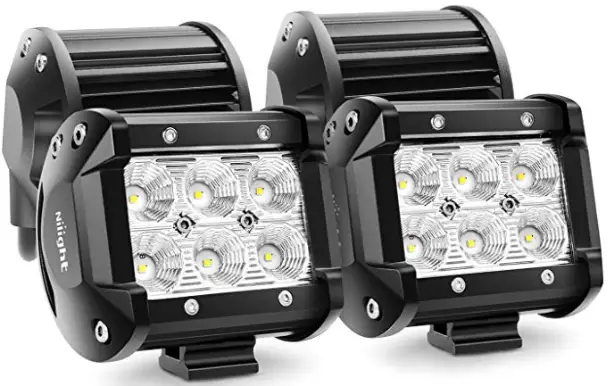 Mounting a set of LED floods up on your ROPS (roll over protection system) will provide much needed light when your FEL (front end loader) is raised up even with your tractor headlights blocking the light from them. With the lighting shining down from behind you it's also easier to see your controls for safer operation.
Adding one or two LED's facing backwards can also assist with backing up to to a trailer, backing up to implements for attachment, or when using those implements such as a back blade or box scraper while grading the drive.
These 18 W Nilight LED auxiliary lights from Amazon.com can handle any conditions Mother Nature throws at them. They have a working lifespan of 30,000 hours and have a nice bright white light 1260 lumens at 6500 Kelvin color temp.
Amber Strobe LED Light
If you take your tractor down the county roads, you may be required to have an amber strobe light so the other drivers can easily see you. Every state has different rules so check with yours to see what's required. At the very least a slow moving vehicle sign must be mounted on the back of the equipment, but sometimes flashing amber lights and/or reflective tape is also required.
Even if you are just grading the drive or removing snow near the road, it is very helpful to the other drivers to see you and realize you are a slow moving vehicle. This is especially true during slippery road conditions or low-visibility. You never know when you may get stuck or maybe you didn't see the vehicles on the road due to blowing snow. The sooner the other drivers can see you the more time they will have to react and slow down to give you plenty of room.
This LED amber strobe light from Amazon.com has a magnetic base and 16 different programmable flash patterns. At the end of the long cord is a 12/24 V plug with built-in switch, but you could also hard wire to a switch on your console if you desired.
Sun Shade
A sun shade has more uses than keeping the hot sun from scorching you during the hot summer months. It also protects somewhat from the rain and snow depending on how hard the wind is blowing. It can also from falling objects such as tree branches when working in woods.
Aftermarket sun shades attach to the ROPS (roll-over protection system) on your tractor. They could be made from steel, fiberglass, or cloth with a metal frame. To get the best fit though, check with a dealer that sells your make of tractor and see what they recommend. Universal fit sun shades may need small modifications to match up to your particular tractor.
Carry-all or Cargo Box
These can be as simple as a metal tool tray that bolts to the ROPS or an elaborate equipment organizer that connects to the 3-point and holds all the tools and equipment you need to get your job done. Consider the types of jobs you do with your tractor and what tools you would like to always have on hand. Then match up those tools to what the cargo box is designed to carry. I've seen some heavily modified custom carry-all systems that make it easy to bring all the tools and materials with you for the job to be done.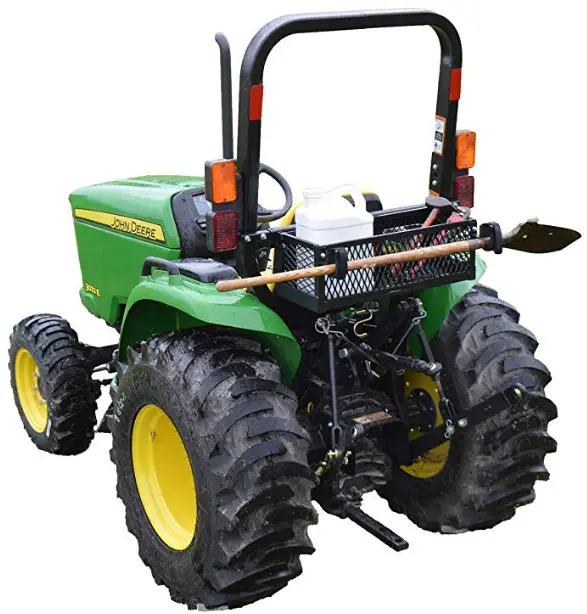 This tractor tool tray from Amazon.com is a steel mesh basket that bolts onto the ROPS. By itself it can carry a few things but with a few simple modifications could be customized to carry whatever you need such as some long-handled tools.
Ballast Box
Adding weight to the back of your compact tractor is a must when using the FEL to lift heavy loads. The ballast box can be filled with sand, gravel, broken concrete, bricks, scrap steel, etc. and helps keep the tractor stable by placing more weight all the way to the back of the tractor. They easily attach to the 3-point hitch so you can swap it on or off as needed.
A large item like this is probably best to get from your local dealer, but here is a ballast box on Amazon.com for comparison purposes. This one has a sliding door that allows the ballast to easily be emptied if it is material that is flowable like sand or gravel. The other thing to consider is the height of the box compared to how high your 3-point hitch raises up.
Chainsaw Scabbard or Boot
If you use your tractor a lot out in a woodlot it is nice to always have your chainsaw available for removing deadfalls across the trail or when you find a nice log for firewood. Having the chainsaw handy when working around the homestead is great for trimming trees or cutting up fallen branches for easy removal. A couple of ways to mount the saw to the tractor are either a scabbard or a bar clamp type holder. The chainsaw scabbard is a boot that mounts on the tractor so the blade of the saw is inserted in the scabbard for storage. The other type of chainsaw holder clamps hold of the bar tight to keep the saw secured.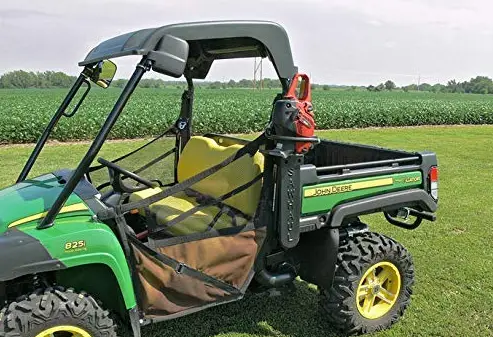 This chainsaw boot from Amazon.com has universal mounting hardware to attach to any ROPS. It keeps your chainsaw secure and protects it from damage. It is also lockable.
Hitch Receiver Bar
A drawbar hitch receiver mounts to the 3-point and accepts most 2″ hitches which makes it very useful for moving trailers around. Having a hitch on the 3-point makes it so easy to back up to a trailer and use the hydraulics on the tractor to lift the ball right into the socket. This works great for hooking up the hay trailer for our family hayrides.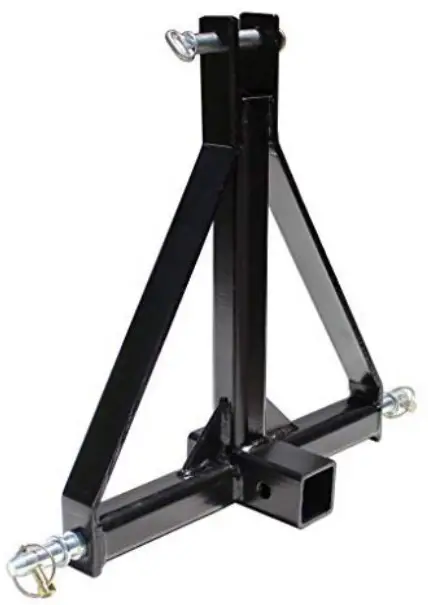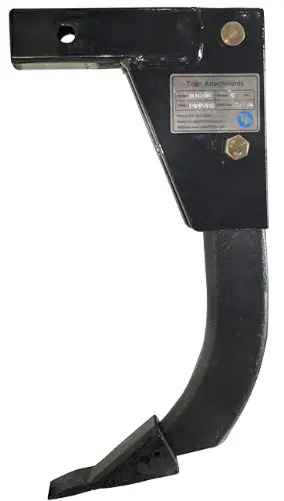 Along with this receiver Titan also makes a hitch mounted ripper to get even more use from your tractor. Use the Hitch Ripper also on Amazon.com for soil conditioning, trenching, and all other sub soil tasks.
Clamp-on Front Bucket Hitch Receiver
If you maneuver trailers around in tight spots this clamp-on receiver hitch will help immensely. It clamps on the bottom lip of your front end loader bucket. Backing campers and boats into a barn for winter storage is the first thing that comes to mind for this product.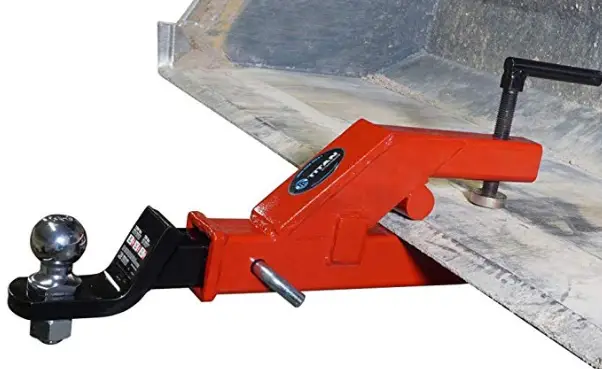 Titan makes many quality products for trailers and tractors. This particular clamp-on hitch from Amazon.com has great reviews
Clamp-on Tooth Bar for Loader Bucket
Adding teeth to the front loader bucket makes digging with the FEL much easier. The teeth make easy cutting into sod and also cut through or rip out small saplings and brush. The Piranha Toothbar works great. I borrowed a Kioti tractor with the Piranha on it to clear brush and level the ground for grass. I could not believe how easily it cut through the terrain.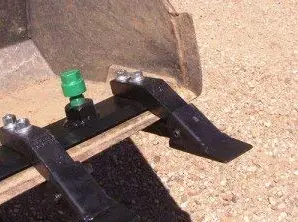 Amazon.com does a few different toothbars like this clamp on toothbar. There are just a few ratings on it and I haven't personally used this type so I encourage you to compare.
Clamp-on Pallet Forks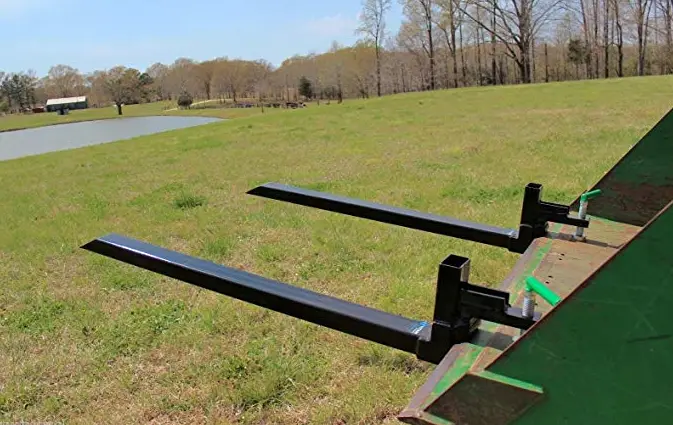 Turn your loader tractor into a fork lift with these clamp-on pallet forks. Most are built super strong with a rating higher than what your loader will be able to lift anyway. Great for loading and unloading trucks and trailers or moving materials around the homestead.
Edge Tamer
Edge Tamers are like little skid plates for the bottom edge of the FEL bucket. They allow you to scoop dirt and debris in the yard without digging into the sod. They are also great for snow removal on gravel drives so the bucket edge doesn't disturb the gravel.
Brush Grubber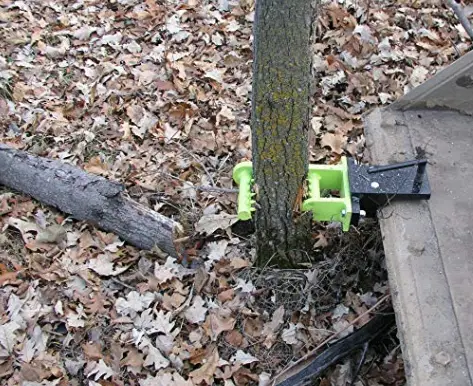 A Brush Grubber is a tool with teeth that attaches to the lower edge of a tractor or skid steer's bucket. The open jaw design allows the tool to be used and operated from the driver's seat of your loader. Maneuver the teeth around the trunk of a small tree or bush and use the power of the tractor to rip the vegetation out of the ground roots and all. You can find the Brush Grubber on Amazon.com
Rigging Hardware
Having the correct rigging hardware on hand will make for safe and effective lifts and pulls with your tractor. An assortment of slings, chains, shackles and hooks that are maintained and in great shape can be kept right in a tool box mounted on the tractor or in the tool tray. They even make a lifting hook like this one on Amazon.com that slides over the front bucket
Correct rigging practices should be followed to keep people safe and equipment unharmed. So things to consider are:
Making sure the hardware has the correct weight rating
Inspect the slings and other hardware for damage or excessive wear before each use
Watch for pinch points and keep body out of harm's way
Maintain eye contact between operator and rigger and establish effective communication and/or signals
This Rigging Handbook from Amazon.com is the one I learned from while working in the trades.
Cowling Cover
Keep the dust, dirt and bird crap off your tractor with a cowling cover. This one from Classic Accessories on Amazon.com is great for a sub-compact as it's only 74″ long. At about $60 it's a great deal to help keep your tractor looking great for years. We wanted to get one for the John Deere 2025r but it's about 10″ too short. The only one I found for the Deere was right from the dealer and about $100 more.
Brush Guard
Today's tractors are not made a durable as the old days. The front grill, headlight bezels, and hood are either made of plastic or a thin gauge sheet metal. A brush guard will help protect the front end from damage. This is actually an ideal project for the home fabricator and a good reason to talk your spouse into the new welder you've been eyeing up.
Unfortunately because of the difference in all the tractor makes and models it really isn't feasible for manufacturers to offer any aftermarket brush guards. The factor brush guard is a good start, but adding some expanded metal across it will likely prevent a branch or a chuck or sod from falling off the bucket into the grill or on the hood.
Rear Protective Screen
Depending on the work going on behind your tractor, you may want to consider adding a protective metal screen to the back of the tractor. These usually mount directly on the ROPS . These are especially useful doing mowing or brush hogging operations when rocks or other debris can shoot out from under the deck and towards the operator.
This is another great project to build in the home fab shop as not many products are available that are a universal fit. The Orange Aftermarket website does offer some for Kubota.
Backhoe Thumb
A backhoe thumb attaches to the boom above the bucket on the backhoe to allow for grabbing rocks, logs, concrete slabs, etc and holding them tight for easy and safe maneuverability.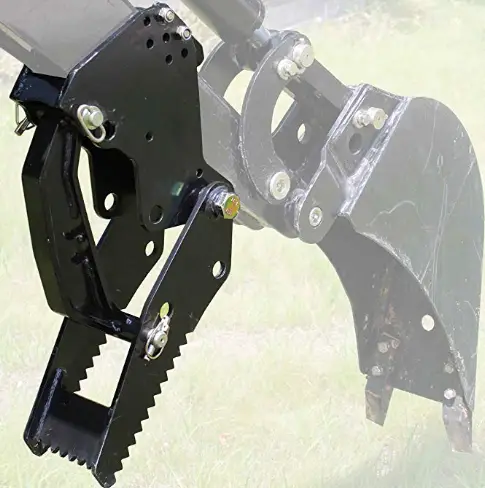 A backhoe thumb attaches to the boom above the bucket on the backhoe to allow for grabbing rocks, logs, concrete slabs, etc and holding them tight for easy and safe maneuverability. This one on Amazon.com is from Titan (very impressed with all their products) is adjustable to allow grabbing of many size and shape objects.
No matter what you use your compact tractor for on the homestead, there is usually an attachment or accessory that makes it easier or more effective. Hopefully some of these I've listed will help with accomplishing your homestead chores.
Related Posts