Pure maple syrup is a valuable commodity sought after by many breakfast lovers. If you happen to own a sugarbush of your own and have been considering tapping those trees to make delicious syrup for yourself, you might have also been wondering if you need a license to sell that yummy maple syrup to the people around you so that everyone can enjoy a hearty breakfast.
Depending on your state, you may need a state license to sell maple syrup to people who are not family or friends.
It is always important to know your state and local laws regarding setting up a new business, especially when providing a food product. The Food and Drug Administration and Department of Agriculture have set up strict guidelines for people who want to sell any food product, so read on to find out what your state requires.
State by State Guide To Sell Maple Syrup
Federally, the Bioterrorism Act of 2003 requires that all producers of food products be registered and approved, although the Food and Drug Administration has not decided on specific regulations. You should, however, register your business with them if you plan to sell maple syrup to the public, regardless of the state you live in, just to be on the safe side.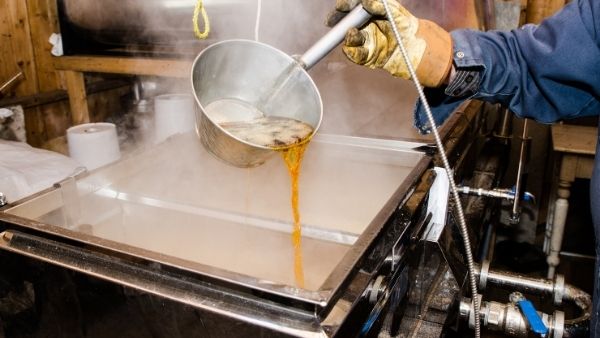 In many maple syrup producing states, individuals do need licenses to sell maple syrup to the public, especially if they are planning to make a profit. Some states have a sales cap, meaning that if you sell less than $10,000 of maple syrup per year, you do not need a license, but you should always verify your business plan with your local agriculture department.
Minnesota
In Minnesota, you need a license from the Minnesota Department of Agriculture to sell maple syrup to the public. The only exception is if all of the trees that you tap are on your privately-owned property. As long as you do not include any sap from other people's trees and the Department of Agriculture approves your production process, you are free to sell.
Vermont
If you plan to sell maple syrup in Vermont, you need to get a license from the Agency of Agriculture and pay the required fee. As long as you turn in the application before July 1st of that year, your license should be processed and issued in the same calendar year.
Colorado
Although not a major maple syrup producing state, Colorado's Cottage Food Laws expressly allow anyone to sell maple syrup without a license of any kind. This is not predicated on any kind of annual sales limit or where the sap is collected. Colorado allows you to sell your maple syrup, no questions asked.
Washington
Washington state asks that producers and sellers of maple syrup obtain a Cottage Food permit before selling any of their products. Maple syrup is on their list of low-risk food and other baked goods and sweets that can be made at home and sold to the public with minimal interference from the government.
Oregon
In Oregon, the maple syrup producers will need to get a domestic food processing license to sell their maple syrup products to the public. Although some baked goods qualify the producer for the domestic bakery license, which isn't as difficult to apply for, maple syrup is unfortunately not on the list of products.
Wisconsin
If you only plan to harvest maple sap and not do any processing, you do not need a license as long as you make less than $5,000 annually. However, if you plan to process maple syrup, you must register your business with the Department of Agriculture, Trade and Consumer Protection.
On the other hand, for people who plan to sell processed maple syrup directly to consumers, you will need to acquire a retail food establishment license. However, personally produced maple syrup can be sold without one. If you plan to store maple syrup for more than 24 hours before selling it, you will need a food warehouse license.
Maine
If you plan to sell your harvested maple syrup in Maine, you initially need to send the specifications of your business and harvesting facilities in an application for the Maine Department of Agriculture, Conservation, and Forestry. You may end up needing multiple licenses depending on the size and scale of your intended business.
For one, a maple syrup processor license is needed when you plan to make and sell maple syrup wholesale. A mobile food vendor license is required to sell your syrup from anywhere other than your home. If you make other products that use your homemade maple syrup and put them on the market, you'll need a home food processor license.
Don't think you're safe if you're working out of your kitchen either. Home kitchens are inspected just like commercial ones. And, if you have a commercial kitchen, you will need a commercial processor license.
Pennsylvania
Everyone who produces and sells maple syrup in Pennsylvania must receive a license from the Pennsylvania Department of Agriculture and pay a $35.00 fee. This licensing is a requirement if you advertise your product in any way other than word of mouth.
The Pennsylvania Department of Agriculture will need to check your equipment and approve your sanitation practices before you can start selling.
Michigan
As long as your sales are less than $15,001.00, you do not need a license to sell maple syrup in Michigan. Congratulations, residents of Michigan; you don't need to file any time-consuming paperwork if you plan to bottle and process the syrup from your sugarbush. A startup at-home maple syrup business is likely to fall below that threshold for some time.
Connecticut
Connecticut's State Department of Consumer Protection asks maple syrup producers to voluntarily register their kitchens, even if they are private in-home kitchens and not commercial ones. As long as it is being produced in a clean environment with proper sanitation and bottled at over 180 degrees, the state deems maple syrup relatively low-risk.
Ohio
Ohio has a little bit of a different system than the other states when it comes to determining whether you, the producer, need a license or not. If over three-fourths of the maple trees belong to you and are located on your private property, you don't need a permit.
In fact, you don't need to register your business or be subject to the inspections that commercial enterprises are when licensed.
Another point to consider is who is doing the collecting of the sap. One part of the Ohio Revised Code notes that the person who is selling and making the maple syrup must be the person who also collected the sap to be exempt from licensing.
New York
In New York, people who produce honey and maple syrup are not required to be licensed. However, if you decide to add other ingredients to your product or if you mix your maple syrup with the sap of another producer, you will need to get a license. This provision usually only applies to large businesses, so individual producers are often exempt entirely.
Alabama
In sweet home Alabama, the state mandates that anyone who wants to sell homemade food products to take a course in preparation and sanitary requirements without any need for licensing, as long as you make less than $20,000 per year from sales.
Conclusion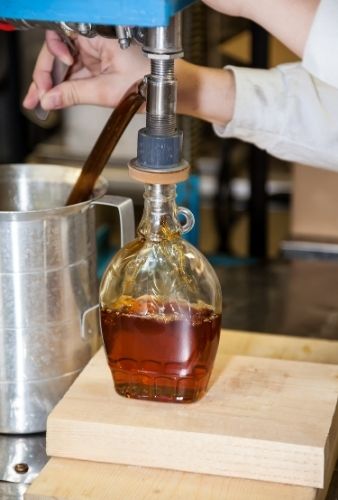 If you want to get in on the sweet business of selling homegrown maple syrup, go on your state's department of agriculture website to find out more about the application process and grab your license. Once you have that license in your sticky fingers, you can get out there and make some serious cash selling your maple syrup.
For more info on grading your maple syrup check this website below:
https://www.federalregister.gov/documents/2015/01/29/2015-01618/united-states-standards-for-grades-of-maple-sirup-syrup
Related Posts