A little while back I was about to undertake quite a large project of building a pole barn to use as my workshop. I knew the cordless drills I had at the time had seen better days and an upgrade was in order before I started this project.
After some research and experience with a smaller Bosch drill/driver, I settled on purchasing the Bosch 18 Volt Drill & Impact Driver set model CLPK232A-181. I can give a thorough review of this Bosch set after using it for construction, woodworking, fabrication, and other uses over the past months.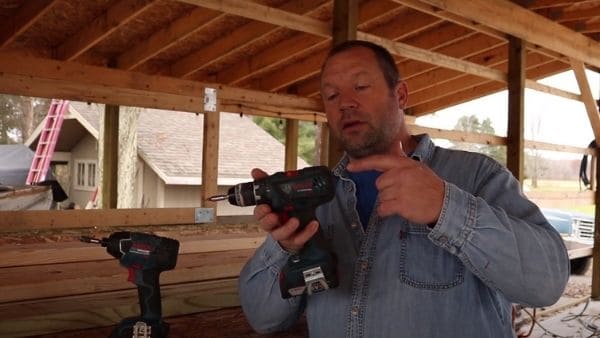 Drill Review
The Bosch drill in this set is the model DDS181A. This drill has a 1/2″ keyless chuck, two drilling speeds and weighs in at a comfortable 3.5 lbs. Actually the first thing that I noticed about this drill when I started using it was that the weight and balance of the drill were just right in my hands.
I've used this drill for drilling holes in both metal and wood. When drilling I set the clutch all the way up to "drill" to avoid any clutch slippage. Drilling holes in wood framing for wires and pipes was usually done with a spade bit of up to 1-1/4″ with no trouble at all for this drill.
For metal work I think the larger drill size I've used is 3/8″ through 1/4″ thick stock. I have also used hole-saw bits for conduits and for both of these applications the drill worked great.
Using this drill as a screw driver has been it's bulk of operation. The clutch makes it easy to set it just right as not to drive the screws too deep. I use this drill in my woodshop all time for driving everything from 3″ cabinet screws to 1/4″ hinge screws. The variable speed trigger makes it easy to gently drive the smaller screws in.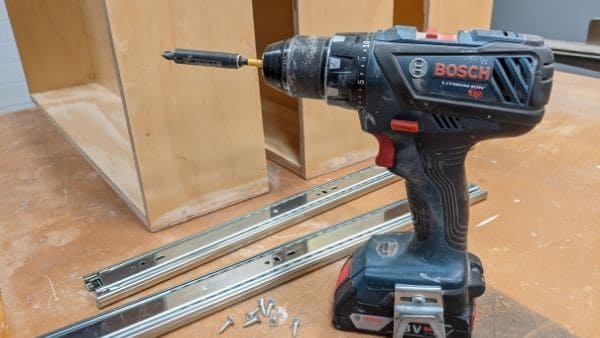 This Bosch drill has a rubberized coating on it that gives it a very high quality feel unlike a hard plastic material like some cheaper brands. I do also own a Ryobi 18v drill and I'm not knocking Ryobi because for the price I think it's a decent drill, but for a little bit more money the Bosch is definitely in the next higher quality class.
The only complaint I have for this drill is there doesn't seem to be enough grip on the keyless chuck. There is crosshatch cut into the chuck but if it was a little deeper or maybe had a different coating for more grip it would be easier to tighten around the bit. I have had my bit come loose a few times after using it for quite awhile and not having the chuck all the way tight.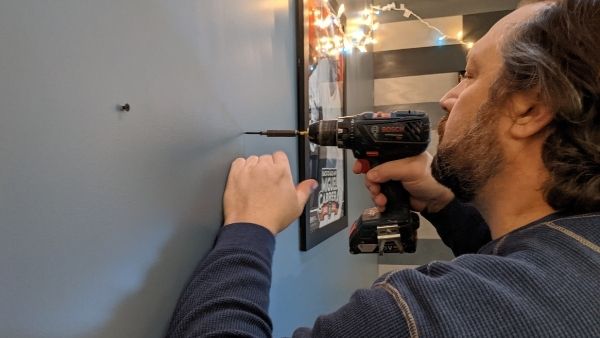 Overall this Bosch drill is way beyond being just a good drill as I would say it's been a great drill. Bosch has done a great job with this cordless tool that is super high quality, fits ergonomically in the hand, and is incredibly durable.
Impact Driver Review
The impact driver in this set has a 1/4″ hex shank quick chuck which is pretty standard size for impact drivers. It features 1,500 in. lbs. of torque at 3,200 BPM (beats per minute). At only 5.7″ long it can really fit into some tight spaces.
Again same as with the drill, my initial reaction to the Bosch impact driver was the balance of weight in my hand. Once I started using it I was impressed with how smooth and easy it will drive screws.
I like using an impact driver instead of drill for longer screws, lag bolts, and concrete anchors because the impact driver has that hammer effect that not only puts force downward into the fastener but also turning it in at the same time. This makes driving longer screws quicker and easier and also makes it more comfortable on the operator.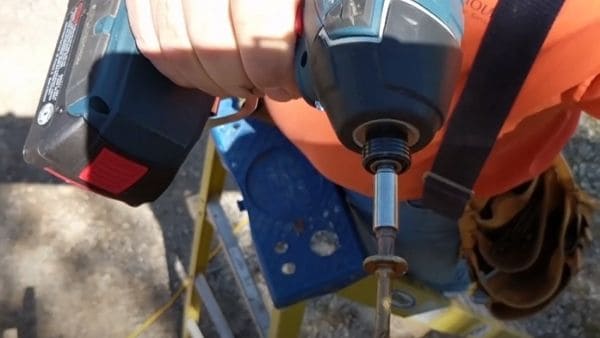 I really used the heck out of this Bosch impact driver during the construction of my pole barn. I would use it for 3″ deck screws and even 1/4″ x 5″ long header lag bolts. Driving those lag bolts without bogging down was very impressive.
More than once I dropped this Bosch impact driver from the top of a ladder or the roof of the barn. After a couple of timely curse words and climbing down to fetch it, I found that it still worked just fine. This tool gets used just as much as the drill and I have found zero issues to complain about this impact driver.
Bosch Battery Review
The batteries that came with this kit are 2.0 AH slim pack lithium ion type that have the fuel gauge built in. The fuel gauge feature is great because you can know for sure you have enough battery life left before you get elbow deep into a project and have to stop to switch batteries.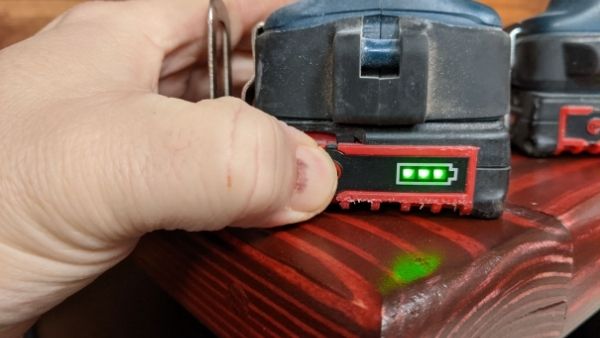 One of the most impressive things about this Bosch kit is how long the batteries last. Even with constant use such as when I was building the barn, I could go a couple of days on the same charge. Even now after my set is a couple years old, I can go easily go a couple of weekends on the same charge when using them in the woodshop or on other projects.
It's also great that the kit came with two batteries because most of the time I'm only using either the drill or the impact driver so if a battery does run low, I can grab the other one from the other tool and stick the dead one on the charger. They take only about an hour or so to fully charge which doesn't seem to be a hindrance to me at all.
I filmed this video review after using the Bosch drill & impact driver for about 6 months. I am just as impressed with the tools now as I was at that time.
My Recommendation
Based on my experience using and abusing this Bosch drill and impact driver set, I can say that I highly recommend it. In fact I'm so impressed that my next tool purchase will be an 18v Bosch circular saw.
The weight and feel of the tools, the quality coating and finish, ease of use, durability and battery life all get the highest rating from me. You can purchase this Bosch set on Amazon.
Related Posts