If you are looking into processing your own timber, you have probably explored the option of buying your own portable sawmill. There are absolutely some benefits to having your own portable sawmill – but the investment isn't without its challenges. It pays to weigh your options before making a purchase.
Are portable sawmills worth it? Portable sawmills are worth it, particularly if you have a steady supply of reliable timber. Portable sawmills come in all shapes and sizes, some of which are run in conjunction with a household ladder and a chainsaw. Portable sawmills have often been put to use by individuals who bought the sawmills for personal use but later found they could turn a profit with them.
This guide to the value of portable sawmills will also include a section on the best portable sawmills for the average buyer of smaller portable sawmills, which is often the homesteader looking to use the portable sawmill for household projects. You will also find that there are a few different types of portable sawmills, which will also be discussed in further detail here.
Why Would I Want A Portable Sawmill?
All stands of timber go through a lifespan. Eventually, the trees on your property will begin to rot and fall apart. Sometimes you will need to cut down older trees to keep the entire timber stand healthy. Being proactive with your forest management practices can help you make more use out of the trees on your property.
A portable sawmill can be a great asset to the homesteader with a small woodlot on their hands.  Portable sawmills can be easily moved from site to site on a trailer that you can pull with your pick-up truck.
Lumber processed from portable sawmills can serve a variety of uses including, but not limited to:
Woodworking projects
Furniture
Cabinetry and trim-work
Outdoor decks and projects
Fences
Sheds, barns, & livestock shelters
Timber-framed houses
Siding, fascia, & soffit material for homes
Framing and construction lumber with proper approvals
You can put this lumber to personal use, and you may even consider trying to sell your milling services or the lumber you processed. In the right circumstances, these machines can be profitable. It all depends on what you intend to do – and how much time and money you want to devote to your craft.
Estimating The Average Cost Of Harvested Lumber
One of the factors to consider when deciding whether to splurge on a portable sawmill is whether it will save you money on lumber. You may also consider trying to profit off of your own lumber to have a little extra cash in hand.
Turning A Profit With Your Portable Sawmill
The price of harvested lumber depends on a number of factors, according to Woodshop News:
 The quality of the log
 The species of tree
  Dimensions of the lumber
 How the lumber has been sawed and dried
This can make it difficult to do a cost-benefit analysis for a portable sawmill based upon the price of lumber alone. However, it has been noted that the average retail prices on the popular domestic species (such as red oak, maple, and poplar) tend to average somewhere in the range of $3 for a board foot for rough lumber.
A single log measuring 30" in diameter and 8' in length has the capacity to yield roughly 400 board feet after milling.  This means that one log can be worth as much as $1,200 after milling and drying of the lumber has taken place. Makes you think twice before lopping that log into chunks of firewood.
Furniture-grade cherry wood is worth twice as much as common domestic species, and processed clear walnut wood holds a value three times greater than that of common domestic species.
The cost to have your timber milled into lumber can vary by location and contractor. There are also different methods a sawyer charges for services, such as these listed below:
A professional sawyer to come to your site and process logs into rough-sawn boards will sometimes charge an hourly rate of $50-$80 per hour.
Some contractors running smaller operations may do the job for a percentage of the final value of the processed lumber.
The price may also be based on the total number of board foot that is cut. This could vary by the hardness of the wood species and thickness the boards are cut to.
Many years ago the first time I had my local miller bring his sawmill to my site, it cost $.30 a board foot for the service. My logs were Ash and Oak that I had milled in 4/4 (1″). That price has nearly doubled over the years to today's pricing. Any hidden nails that damaged the blade were an extra cost above that.
Other Steps and Costs of Processing Lumber
Additional steps and costs associated with milling your own lumber include the following:
Hauling the lumber to a drying shed or kiln
Time spent in the kiln
Sealing the ends of the boards
Installing small spacers in the lumber responsible for allowing air to circulate across all six surfaces of a board

This process is referred to as "stickering."
Sawmill Service Fees Can Add Up
If you are set-up to process a large amount of timber, owning a portable sawmill can help you immensely in the long run. Fee structures are generally not universal when it comes to milling, as is stated on this website for a portable sawmilling contractor.
If you hire someone to mill your timber for you, they will charge as they see fit based upon your specific situation.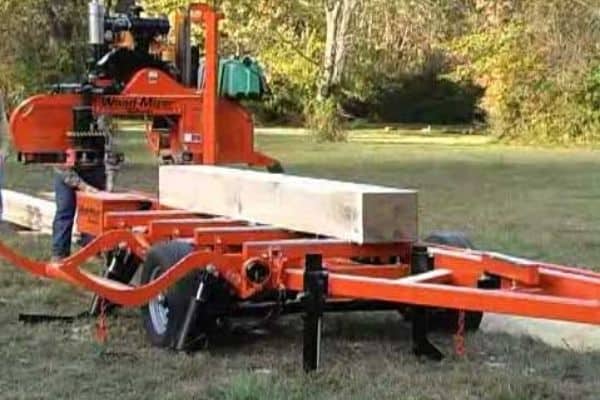 You can expect them to charge a flat fee for equipment set-up plus a fee-based upon how far they had to travel to get to your location. Shorter and small-diameter logs may end up costing more to mill because they require more special attention than the bigger logs, which can be processed without much difficulty.
Professional sawyers will often charge by the hour with smaller logs that require attention but don't yield many board feet of wood. If you use your own portable sawmill, you will have more control over costs. You won't have to pay for someone else's overhead.
Having your own sawmill gives your the luxury of milling small diameter logs or shorter logs that just isn't cost effective to have a sawyer come on-site to do for you. There is still much value in this type of timber, but is more time-consuming to process.
Portable Sawmills Are Useful for Converting Unwanted Logs Into Quality Lumber
There is a multitude of circumstances in which someone may suddenly have a bunch of logs on hand that they are trying to get rid of in a hurry.
A heavy storm may ravage your area, leading to the headache of people having to clear their yards of debris from fallen or uprooted trees. You may be able to process premium woods such as clear walnut and cherry that people just want to get rid of.
Those logs I had milled when I first hired a sawyer were downed in a tornado that swept through the neighborhood. After having them milled and kiln-dried I used the lumber to build my kitchen cabinets. There have been many instances since then that I've found quality logs for free due to storms or other die-off (such as ash-borer).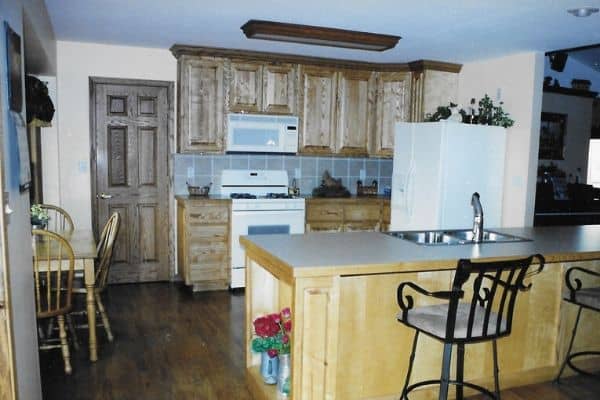 You can often find a portable sawmill useful in an urban or suburban area for this reason.
Another situation that often arises in metro areas is the rapid clearing of timber by tree service companies for real estate or commercial developments. Johnathan Arnold is a part-time sawyer based out of Ontario, Canada. He salvages cut timber from his local tree service company in an urban area.
He has been able to process fallen timber into high-quality additions for his home, including a solid walnut countertop, the mantle above his fireplace, and hardwood floors throughout his home. He has even been able to sell lumber that he processed to homeowners after he helped clear their property.
Portable Sawmill Options
Portable sawmills come in a variety of designs to be suited for specific demands. One portable sawmill might better suit a homesteader who is looking for a system that is easy to learn while a professional sawyer will look for a system cable of outputting a high volume of board-feet per hour.
With a wide diversity of specifications across the board, you should be able to find a worthy portable sawmill by doing a little homework.
Recommended considerations, according to Farming Magazine, for the buyer include:
The type and hardness of wood to be milled
The length and diameter of the timber you want to mill
Products you want to make with processed lumber
If you are hoping to turn a profit, or just looking to use for yourself
The support equipment that will be needed such as a tractor with a front-end loader
Overall ease of use and desired features
Bandsaw Mills
Bandsaw mills function by passing a band saw blade horizontally through a log in order to make boards. This system allows sawyers to get more out of the logs they process. Bandsaws produce less sawdust waste because of the narrow kerf or thickness of the blade.
The advantages of band saws also include lower power and fuel requirements than circular saws and the capacity to cut a larger variety of pieces. Most portable sawmills on the market today are bandsaws.
These mills usually consist of a rail system that a log is loaded onto and carriage system that supports the bandsaw which then moves down the log as it cuts. The bandsaw mill can vary from a basic setup like that which rests right on the ground, or with many different options could become portable on it's own trailer package and have hydraulic systems that load and level the log.
Swing-Blade Circular Sawmills
Circular saws have a greater production capacity than band saws, as in they can process lumber quicker. However, they also require greater horsepower to run and have historically been seen in fixed-blade mills rather than portable mills.
Older models of circular saws can also present a safety hazard. However, in recent history, a company by the name of Peterson Portable Sawmills has developed a swing-blade circular sawmill that is portable.
The circular saw in these mills can swing from a horizontal to a vertical position, making it more versatile than other systems.
Productivity is increased with this machine, particularly if you are attempting to process logs with a diameter greater than 30 inches. The machine is really designed to shine when it comes to the task of processing large diameter logs.
Swing-blade circular sawmills are known for struggling at times with logs of a smaller diameter. These types of mills are portable in the sense that they are broken down and assembled on site, and not necessarily just pulled up to the site on their own trailer assembly. This could be an advantage or disadvantage depending on the site location and ease of access.
A swing-blade circular portable sawmill is best used for producing standard sizes of lumber for construction and decking & fencing. In this video from Peterson you can see how quickly it cuts dimension lumber.
Chainsaw Portable Mill
Next, let's check out what is often the most affordable option for portable sawmills: the chainsaw portable mill also referred to as the Alaskan Chainsaw Mill because of it's widespread use in remote areas of Alaska and other wilderness regions where vehicle access is limited.
Chainsaw portable mills are designed to be carried to a remote location via an ATV or even a boat. They are quite limited, though, and designed for milling the smallest of logs.
Regardless of the style used, a powerful chainsaw with a sharp blade will make the job much easier on the equipment and the operator. There are even special cut ripping blades that allow for faster cutting. Regular chainsaw blades are designed for crosscuts, but a ripping blade is ground to a different angle (typically about 10° compared with 25-30° on a regular saw chain). In the video below, Eric from Life in Farmland compares the two types of chains are shows the ripping chain in use.
What Portable Sawmill Owners Think
In 2010 a survey of portable sawmill owners and operators was conducted by Auburn University.  The survey found that most portable sawmill owners start out by investing in equipment to complete DIY projects around the house and farm.
Almost half of these owners in the survey have found that they are able to earn some form of income from the equipment, be it a part-time gig or a full-time one.
Portable sawmills have been found to be especially profitable for operators selling processed lumber to skilled woodworkers making specialty products. Rough cut lumber from pine, maple, oak, walnut, and cherry trees is prized by furniture makers.
Portable sawmill owners in the survey reported an average lumber processing cost of $0.15 or less. They typically sell the processed lumber for a price in the range of $0.20 to $0.30 per board foot.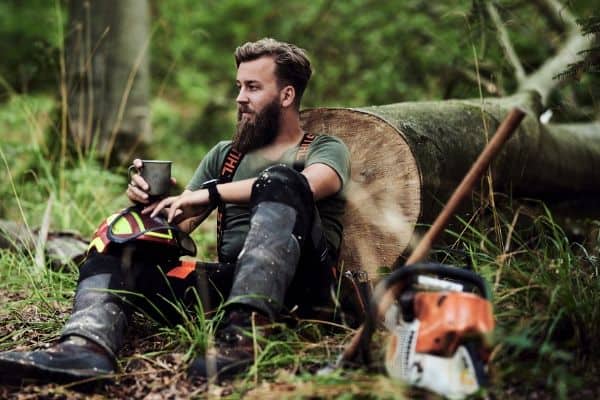 The profitability of the processed wood varies widely, though depending upon quality, demand, and location.
75% of the survey respondents report buying their portable sawmills brand new, given the new technology of the modern portable sawmills that cut down on waste.
What Are The Most Popular Portable Sawmills for Homesteaders?
These portable sawmills are built for primarily non-commercial purposes. You can still turn a profit with them, though, if you wish to earn some income.
Small
This small-scale portable sawmill is both affordable and useful for small-scale milling. It is also easy to move from place to place. Perfect for a remote area or for occasional milling.
Norwood PortaMill Chainsaw Sawmill
The Norwood PortaMill is well-designed for remote use as it can be carried on an ATV or boat.
To complete the kit, you will need to either already own or purchase a chainsaw with a ripping chain and a household extension ladder.
The PortaMill portable sawmill can handle green logs up to 14 inches in diameter and as long as your extension ladder allows.
You can produce a variety of lumber with this mill, from 2 x 4s to 6 x 6s. Make sure your chainsaw is equipped with an engine size of 50cc or greater.
Mid-Sized Portable Sawmills
This portable sawmill is a great option for homesteaders looking for a machine with wider milling capabilities than the chainsaw portable sawmill.
Hud-Son Sawyer Portable Sawmill Bandmill
Larger Portable Sawmills
These portable sawmill options will come in at a higher price than the other options listed above. However, if you have access to a large quantity of timber, then you will be able to mill larger logs with these portable sawmills.
These portable sawmills are a viable option if you are looking to earn some income from your sawmill. Each one has a link to where you can go to learn more about it and consideration for purchase.
Norwood LumberPro HD36-16 HP Stratton & Briggs Engine
Wood-Mizer LT-15 With 19 HP Gas Engine
Norwood LumberPro HD36- 23 HP Stratton & Briggs Engine
How Can You Improve the Usefulness of a Portable Sawmill?
Portable sawmills often have add-ins available that can help you tailor the machine to your needs. For example, there is a large variety of attachments available for the Norwood LumberPro HD36.
Attachments include:
Leveling stands designed to help shorten set up times

These become useful when you decide to make your portable sawmill stationary in your yard

Bed extensions

You can customize your portable sawmill to be able to handle longer logs than what it currently has the capacity for

You can find a bed extension that is either permanent or detachable

Log loading/rolling & ramp package

This attachment can help you to load logs manually without the need for a forklift or lift-loader of some sort

Roller toe boards

These allow you to produce specialty lumber with a taper to it without having to do any shimming

This can work great for producing specialty items such as furniture
Your ability to customize your portable sawmill can help you perform tasks you never thought you would be able to do on your own. It is also good to be able to design specialty items for your home without having to pay someone else to do the work for you. This may mean milling custom sizes of lumber for fireplace mantles, beams, etc.
When you ask someone to do specialty work for you, it can rack up quite a cost in extra labor charges, particularly when they have to start charging by the hour or search for the perfect piece of lumber for the job.
With a portable sawmill, you get to be as meticulous as you wish with your work as you don't have to worry about how much it costs to have someone process a highly valuable piece of prime clear walnut.
Summing up
A portable sawmill is an investment that can range widely in cost, depending on what your intended use for it is. It can absolutely be worth it if you first consider your needs or intentions for the mill and then determine which one is best for you. Whether you are milling and stockpiling just enough wood for your own needs, or you intend to sell off some of your lumber, there is an option on the market for you.
Related Posts