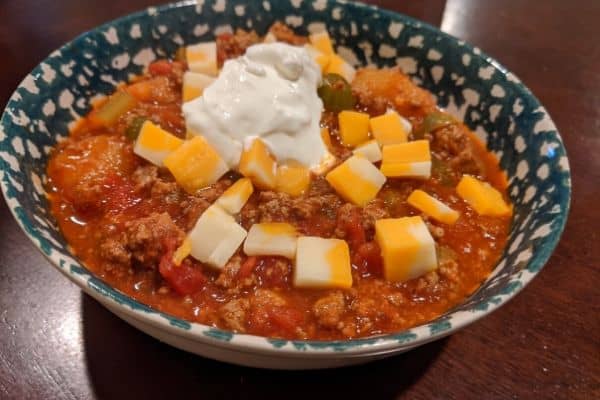 From about September to the last of the cold and damp spring days nothing beats a great bowl of chili. Here on the homestead we've made many different varieties of chili over the years. Some with beans, some without. Chili beans are what prevents most chili recipes from being considered Keto-friendly because chili beans are high in carbs. I've recently gone back to a Keto diet and Paleo lifestyle so I needed to create a chili recipe that fit those low-carb healthy requirements.
I do almost hate to call this dish "Keto" because it turned out to be the best chili I've ever made. With the spicy ingredients in this dish there can be a little too much heat for some people, but I'll give a few options to tame the spiciness if you wish.
This perfect slow-cooker low-carb chili uses ground bison burger and beef stew meat or a grass-fed steak cut up into small bit size pieces. The RO-TEL with habaneros is a little spicy but you could substitute the regular green chili variety if you wish. The tomato paste will help to thicken it up as the RO-TEL cooks down. The thick consistency is what you'd expect from a good bowl of chili. I add the celery stalks and celery root to give it a little bit of crunch and substance. Because there are no beans in this chili it is the perfect Keto dinner.
There is only one jalapeno in this pot of chili and that by itself should not add too much heat. You could add a sweet pepper instead if you really can't tolerate any heat. In my opinion though, jalapenos give the very best Tex-Mex flavor that really sets this dish above other chili recipes I've tried.
After you've browned all your meat and saute the vegetables you could add the rest of the ingredients and simmer on the stove top if you wanted to. I prefer to let it cook in the crock pot on low for about 4 hours to really let those flavors mix together and thicken up.
This recipe makes about 4 large bowls of chili that are perfect for a big guy like me, but for smaller appetites you will be able to serve 6-8 people. If I make this for myself I'll eat it for dinner one night and then refrigerate the remainder for a few more lunches or dinners later in the week. Re-heated leftover chili in my opinion is even better than the day it was made. Something about all those flavors marinading together overnight really elevates how good it tastes.
I like to top off my bowl of chili with a dollop of real sour cream, some shredded or cubed cheese (grass-fed preferred), and diced avocados. There is not a lot of fat in the chili itself, but if you are on Keto trying to increase your fat intake than adding these condiments will help balance out your macros.
Some variations to consider:
RO-TEL makes several varieties with different levels of heat
Substitute venison or other wild game for the bison or beef
Substitute a can of sliced water chestnuts for the celery root
Cook on stove instead of slow-cooker
Ingredients
1 lb. ground bison
1 lb. beef stew meat
2 (10 oz.) cans RO-TEL diced tomatoes with habaneros
1 (6 oz.) can organic tomato paste
2 cups beef bone broth
1 large jalapeno pepper (chopped)
1 small to medium leek (chopped)
2 stalks of celery (chopped)
1 cup of celery root (chopped)
2 cloves of garlic (minced)
2 TBSP chili powder
1 Tsp. black pepper
1 Tsp. sea salt
Grass-fed shredded cheese, diced avocado, and sour cream for garnish if desired
Instructions
Brown the bison burger in skillet and set aside.
Cut your stew meat into bit-sized chunks and brown on all sides.
Using any grease left in the skillet add you jalapeno, leeks, garlic, and celery to saute for about 5 minutes.
While you vegetable are cooking, add the canned ingredients and bone broth to your crock pot or slow-cooker
Add the cooked meats and vegetable to the crock pot or slow-cooker
Add the spices and stir thoroughly.
Cook on low for about 4 hours stirring occasionally.
Serves 4 large bowls.
Add condiments such as cheese, sour cream and avocados if desired.