Homesteading means a constant effort towards self-sufficiency. It means hard work. However, it also means needing reliable tools that will stay by your side and get the job done time after time. Of all the tools you may need as a homesteader or homeowner, a chainsaw is at the top of the list. Whether it is for clearing trees for land or for firewood, it is essential.
Homesteading is already a difficult path, one where hard work and self-sufficiency are chosen instead of ease and convenience. Today, the goal is to look at which chainsaws can help make even the difficult path a little easier and be there for you for the long haul.
Gas-Powered Chainsaws
Gas-powered chainsaws are the most powerful. It is as simple as that. They cut more quickly, and it is usually smoother than with an electric chainsaw. To a homesteader, power means a lot. It allows them to deal with any job, from clearing small trees and shrubs to tackling a more massive project. With a gas chainsaw, you can do it all.
However, the power comes at the cost of needing fuel, more maintenance, and being noisy. While power is important, having a reliable tool is just as vital to a homesteader, meaning it is imperative to choose a tool that has both the power for what you need and reliability.
Keep in mind as you are choosing your chainsaw that the power-to-weight ratio means a great deal. While more power is always better, having a heavy chainsaw can make it difficult to wield and thus difficult to use. The following chainsaws are all gas-powered options meant for various needs.
Gas Chainsaw Comparison Table
| | | | | | |
| --- | --- | --- | --- | --- | --- |
| Model | Bar Lengths | Displacement | HP | Weight | Fuel Cap. |
| Stihl Farm Boss MS 271 | 18″ – 20″ | 50.2 cc | 3.49 | 12.3 lbs. | 16.9 oz. |
| Husqvarna 455 Rancher | 13″ – 20″ | 55.5 cc | 3.49 | 13.2 lbs. | 14.3 oz. |
| Craftsman S205 | 16″ – 20″ | 46 cc | N.A.* | 15 lbs. | N.A.* |
| Stihl Wood Boss MS 251 | 18″ | 45.6 cc | 3.0 | 10.8 lbs. | 13.2 oz. |
| Echo CS-400 | 16″ – 18″ | 40.2 cc | N.A.* | 10.1 lbs. | 13.9 oz. |
| Husqvarna 435 | 13″ – 18″ | 40.9 cc | 2.2 | 11.6 lbs. | N.A.* |
Gas Chainsaw Comparison Table * Information not Available
STIHL MS 271 20 in. 50.2 cc Gas Chainsaw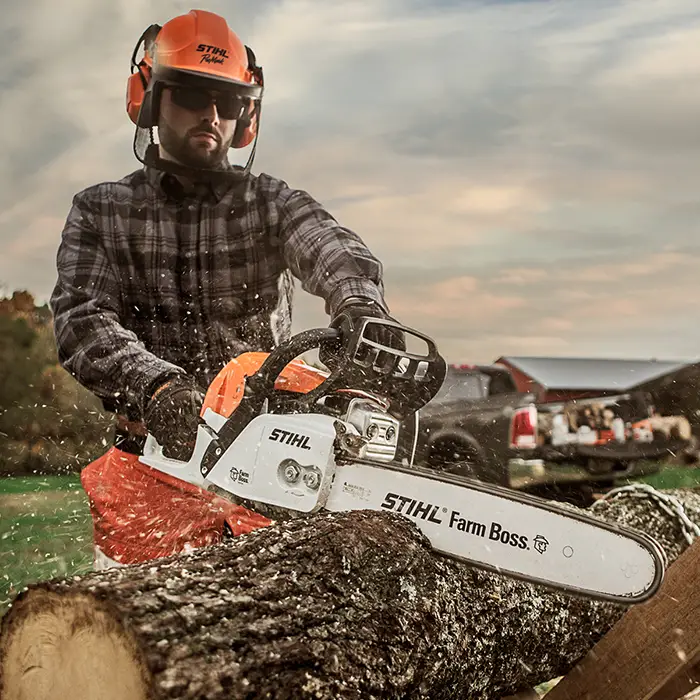 My first chainsaw I purchased over 20 years ago was a Farm Boss. The latest Farm Boss model, the STIHL MS 271 with a 20-inch bar will meet any job head-on. While 16-inch and 18-inch chainsaws can perform a number of jobs, sometimes there is nothing better than a 20-inch to tackle big and small projects alike. You lose a little versatility, but no tree stands a chance.
As a gas-powered chainsaw, you can be sure that the MS 271 will provide ample power. Simultaneously, the MS 271 boasts a slew of safety features to ensure that all of its power remains wieldable, including a chain break and STIHL's system meant to minimize the vibration of their equipment in the form of an anti-vibration handle.
If that was not enough, the STIHL MS 271 features an engine that cuts emissions in half compared to its previous model while lasting 20% longer, providing utmost efficiency. Even the air filtration system stands out, lasting twice as long, which means far less maintenance on one of the most troubling parts of a chainsaw.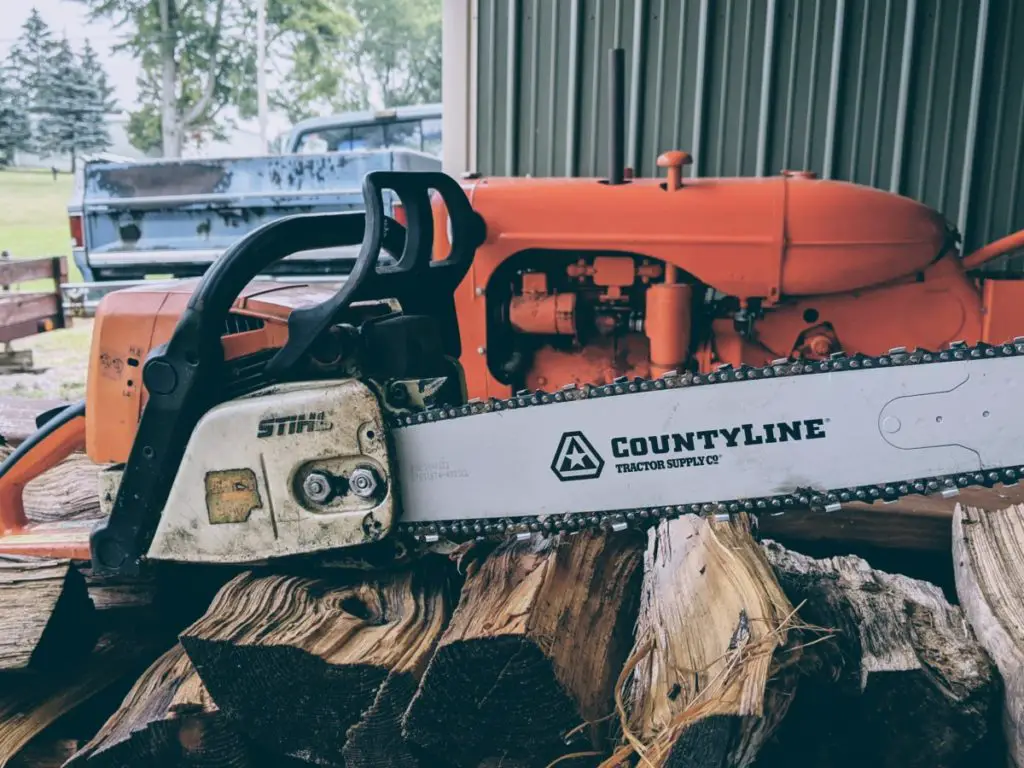 All of the power and innovation above can be yours for around $400, and it comes with a 1-year limited warranty. The price may be a cut above most other models for personal use, but the chainsaw is as well. If you are looking for a reliable chainsaw that will take care of almost any job, the MS 271 is for you.
Displacement (The Power): 50.2 cc
Weight: 12.2 lbs
Fuel Capacity: 500 ccs (16.9 oz)
Stihl chainsaws are sold through dealers. To find your nearest dealer click here.
Husqvarna 20 Inch 455 Rancher Gas Chainsaw
Another powerhouse in the 20-inch category, the Husqvarna 455 Rancher, packs a serious punch. Just like the STIHL, it trades some ease of use for the longer blade and a smooth, steady cut. In fact, the 455 can increase its bar length up to a 24-inch recommended maximum.
The 455 Rancher also has Husqvarna's LowVib technology to reduce the vibration felt during use, a great feature to lessen fatigue for those planning long-term use. Additionally, with the ability to adjust the tension from the side and an air injection system, the 455 Rancher is all about convenience in a big, powerful package.
This Husqvarna model even features similar fuel-saving technology to that of the STIHL, allowing for both fuel-efficiency and reduced emission levels. Combined with the LowVib technology, it is a perfect chainsaw for taking on big projects in one fell swoop.
Just like with the previous chainsaw, the 455 Rancher has a hefty price tag, sitting just a bit over $475. However, it also comes with a limited warranty, one that lasts two years if you buy the chainsaw for home use. There are few options as reliable and powerful as the versatile Husqvarna 455 Rancher. You can buy one online at Amazon. Click here to see the updated price.
Displacement (The Power): 55.5 cc
Weight: 13.2 lbs
Fuel Capacity: 425 ccs (14.3 oz)
Craftsman S205 20 in. 46 cc Gas Chainsaw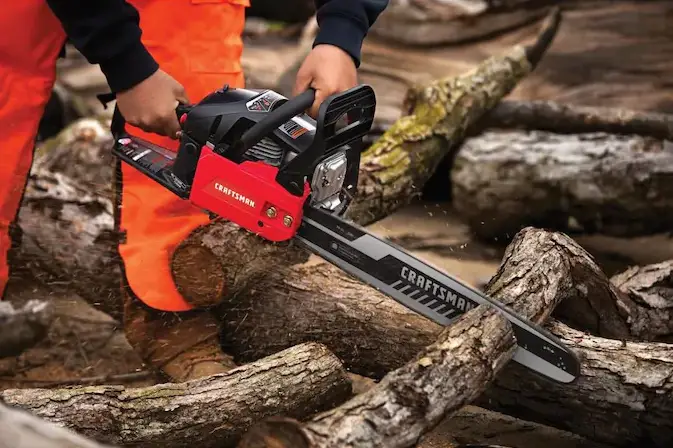 As the final entry in the 20-inch category, the Craftsman S205 gas-powered chainsaw can easily meet most homesteader's needs. While not quite as heavy-duty as the others in the same class, the S205 is meant for lengthy and difficult jobs, meaning it will perform well when pushed.
Additionally, the S205 has its own anti-vibration system, along with a cushioned handle meant to help those using it withstand extended use without trouble. There is even a chain brake that is activated by inertia, meaning you can use it in a variety of situations without much risk
Unlike the other two options in this category, the Craftsman S205 boasts features such as an automatic oiler that can be used to easily maintain the bar and chain. The filter and spark plug, two of the most problematic components of any chainsaw, are accessible without tools, making the S205 a perfect option for DIY maintenance.
The Craftsman S205 comes at the best price out of the three 20-inch options, only costing around $200. The price even includes a carrying case and engine oil for the chainsaw. The S205 even has a 2-year limited warranty. You can usually find them at Lowe's stores or check here.
Displacement (The Power): 46 cc
Weight: 15 lbs
STIHL Wood Boss MS 251 18 in. 2.78 cc Gas Chainsaw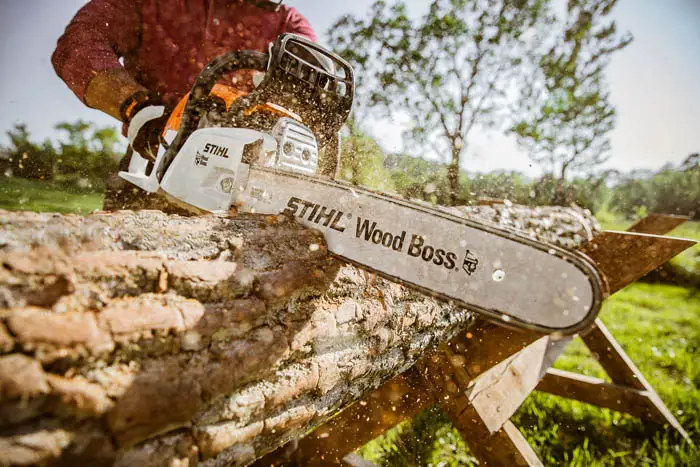 My latest chainsaw purchase was the Wood Boss because I wanted something just a bit lighter for limbing and smaller work. For this type of application, STIHL has another powerful option in the Wood Boss. As reliable as ever, STIHL provides a heavy-duty product for the individual looking to tackle some serious work. Unlike the Farm Boss, however, the MS 251's 18-inch blade is meant to be more versatile, able to tackle both trees and smaller jobs.
Despite the change in purpose, the MS 251 is as convenient and innovative as the larger model. With the same fuel savings and reduced emissions, it allows for longer cutting with less impact. It even operates with less vibration, providing maximum comfort and less wear and tear on you during use.
Furthermore, the MS 251 comes with a number of features meant to make it easy to maintain, including an easy to change the spark plug and simple air filter replacement. Along with the MS 251's Master Control Level technology, even throttle and startup share the easy-to-use mentality.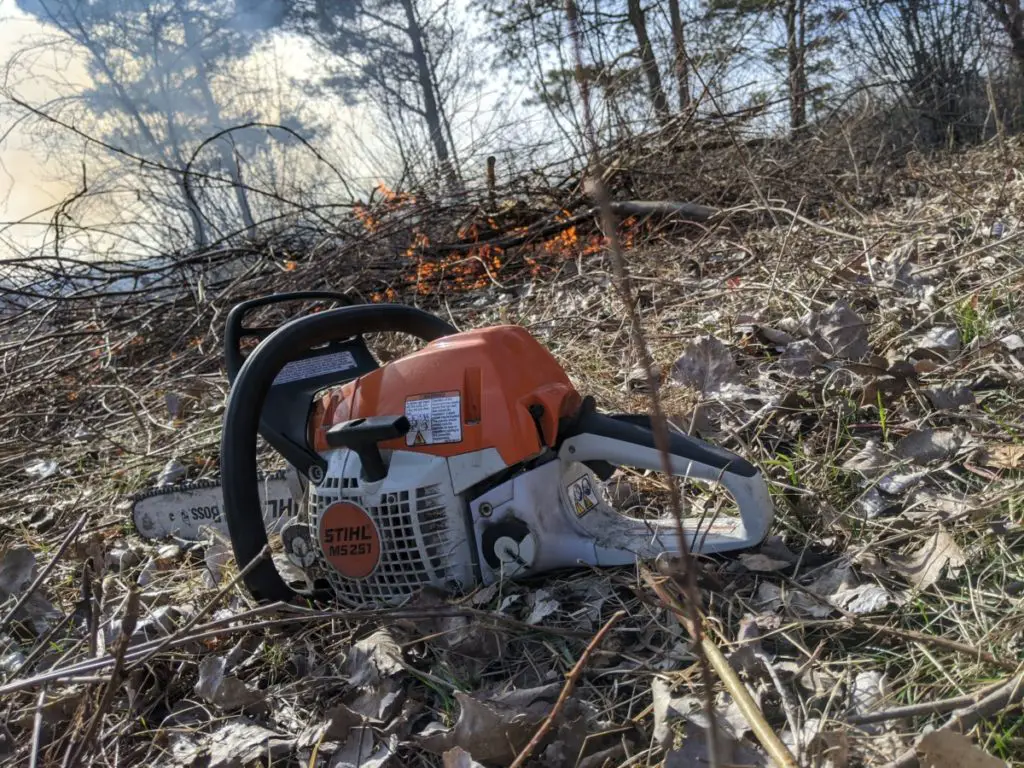 Including a 1 year warranty, this powerful chainsaw can be purchased for around $330, making it more affordable than its 20-inch counterpart.
Displacement (The Power): 45.6 cc
Weight: 13.5 lbs
Fuel Capacity: 390 ccs (13.2 oz)
Echo CS-400 18″ Gas Chainsaw
Echo's only appearance on this list is a strong showing. With an 18-inch blade, it has versatility, which may be the most important factor for a homesteader. More than that, it comes with a list of features and specs that are quite impressive. For starters, it comes with a starting system meant to make life easier on you, being easy to start.
Like many of the options on this list, the Echo CS-400 comes with a powerful air filtration system, though theirs includes an engine air pre-cleaner. The system protects the chainsaw against dust and dirt, meaning a longer lifetime. Moreover, the air filtration system can be accessed without tools.
Side access to adjust the tension of the chain and an automatic oiler is both standard as well, pushing the entire piece of equipment towards being easy to use and maintain.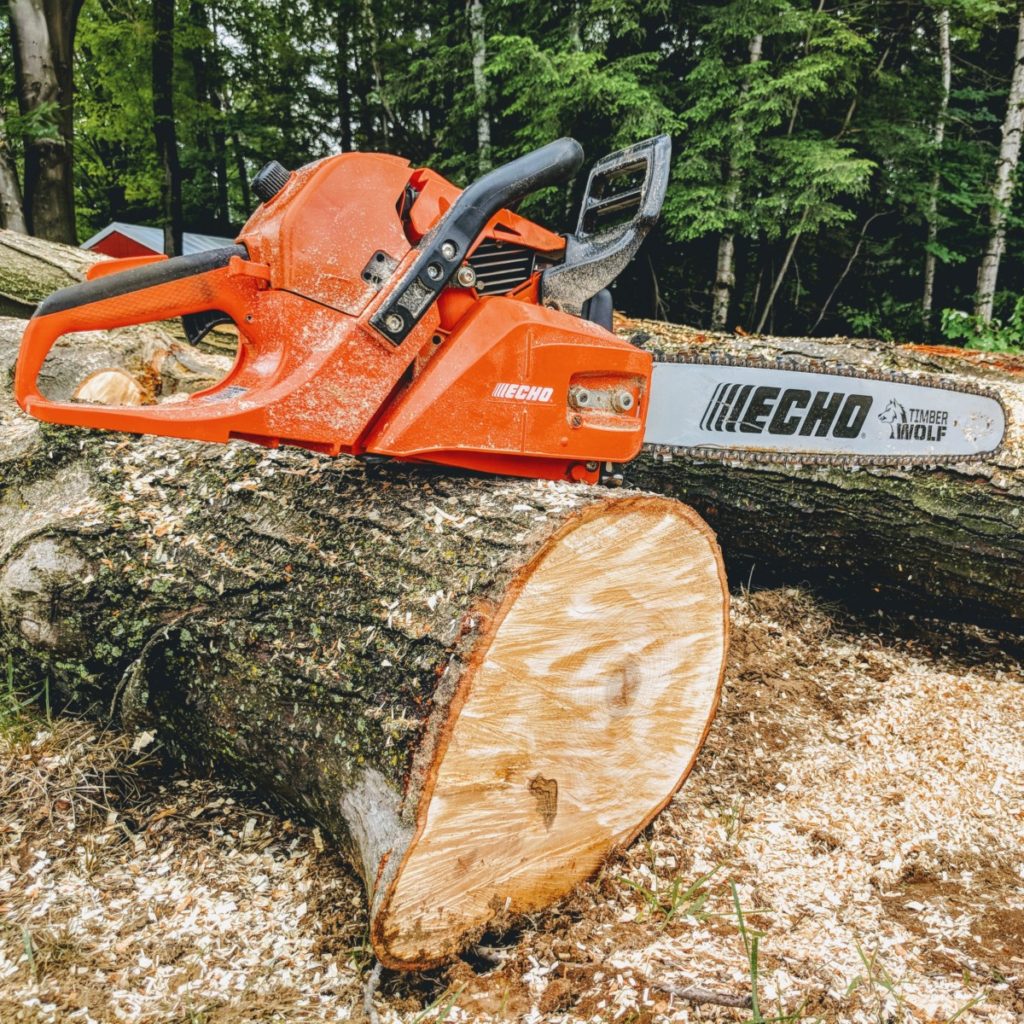 Another standout feature of the Echo CS-400 is a 5-year commercial warranty, meaning they stand by their product for the long haul. Coming out at around 300 dollars, the Echo CS-400 makes a good case for being a tool worth buying. Check here for the latest price.
We've had a larger Echo here on the homestead for years and it's held up wonderfully.
Another standout feature of the Echo CS-400 is a 5-year commercial warranty, meaning they stand by their product for the long haul. Coming out at around 300 dollars, the Echo CS-400 makes a good case for being a tool worth buying.
Displacement (The Power): 40.2 cc
Weight: 10.1 lbs
Fuel Capacity: 410 ccs (13.9 oz)
Husqvarna 435 16-in 40.9-cc 2-Cycle Gas Chainsaw
Husqvarna makes the list again, and for a good reason. Their chainsaws are powerful and reliable, both at 20 inches and at 16 inches. This smaller saw is perfect for smaller jobs, such as cutting down small trees and making firewood. While it cannot contend with the larger offerings for big trees, it can take on a lot of work in a maneuverable package.
Like the previous Husqvarna model, this chainsaw comes with the same big features in a smaller package. It includes the LowVib technology that helps reduce vibration of the chainsaw, and there is the addition of an X-Torq engine, which means your gas will last longer and have less impact on the environment.
Smart Start technology makes the chainsaw easy to start, an especially important feature for a smaller saw that will be stopping and starting often. There is also an inertia chain brake and a side-mounted tension system, which will make working with the chainsaw both safer and easier.
This 16-inch Husqvarna even has Air Injection technology, meaning it is in it for the long haul. With a 2-year consumer warranty, the Husqvarna 435 is worth its price at around $280. Check the current price here on Amazon.com.
Displacement (The Power): 40.9 cc
Weight: 11.6 lbs
My Recommendations for Choosing a Chainsaw
All of the options above were chosen with homesteaders in mind. They are reliable, pack enough power to cut through trees, and take care of smaller projects, and none of them are difficult to maintain. However, when buying, keep your needs in mind, especially when it comes to blade length and power source.
I currently own two Stihl chainsaws and an Echo, and have used Craftsman and Husqvarna saws while helping friends. I think this experience with all these brands gives me a unique perspective as to which of these saws I'd recommend to others.
I'd have to say that this is not an easy choice so I'll break it down this way:
Stihl – For the quality to price ratio I would definitely recommend Stihl chainsaws. I have had little trouble with mine and I believe they are a good solid investment for the homesteader or homeowner.
Husqvarna – This is where my money is going for my next chainsaw. They are powerful and smooth and have a really high customer rating. The 455 Rancher is a bit pricey for some but if you will be doing a lot of cutting this saw is definitely worth it.
Echo – The Echo we have here on the homestead has been great. The little bit lower price on the Echo saws make it an attractive alternative for the weekend user.
Craftsman – We have an older smaller Craftsman chainsaw and it does good for limbing and smaller trees, but from reading the customer reviews on the S205 I think I'd spend a little more money and get one of the other on this list.
Related Posts